Jeff
·
Valencia
·
Completamente remoto
VP of People
If you are curious, hands on, problem solving, passionate about doing your best and have fun in every step of your growth, look for your next challenge at Jeff!
We are helping our friends at Jeff to further scale their dream team with the addition of a person to take on the challenge of VP of People. If you are looking to join a challenging international project, this is the place for you, read on!
---
WHAT IS ITS PURPOSE?
Jeff was born in 2015 from the hand of Eloi Gómez, Adrián Lorenzo and Rubén Muñoz, three friends who after starting several businesses, managed to find their market niche in the laundry services sector. It is in 2017 when they begin to take their first steps with Mr Jeff Laundry Franchises, when the first franchised partner in the Latin American market joined them.
With their business model, they have managed to revolutionize such a traditional sector as laundry. Today, their first specialty, Mr Jeff, has positioned itself as the No. 1 Laundry Franchise in Latin America, where they already have more than 1700 points. In addition to Mr Jeff, they have 4 more services: Beauty Jeff, Fit Jeff, Coffee Jeff and Jeff Works (Coworking) in which they work every day to keep growing.

In short, Jeff is a "super" app of integral services for care and wellness, which aims to offer the best solution to users and make their lives easier, having everything they need in just one click.

Today, Jeff is the revolution in the franchising sector to invest, as they have managed to create a new offer designed by and for the customer, thanks to the use and innovation in technology have managed to position themselves as leaders in the market.
They have turned international franchises into one of the most profitable businesses of the future. For this reason, its purpose is to work every day as a technology company, to consolidate itself as the largest service platform worldwide and offer its franchisees the opportunity to invest in businesses with a future, profitable and low investment.
---
WHY FALL IN LOVE WITH JEFF?
Jeff is the company that has revolutionized the future-proof franchise industry and they have a high-performing team focused on making extraordinary things happen.

At Jeff, trust is the basement that turns the team's flexibility and freedom into key drivers for designing disruptive solutions at lightning speed. For them, feeling good, making the day-to-day meaningful is a must. They do this by enjoying every moment of this exciting journey while achieving both professional and personal dreams. This is why they have strongly established values rooted in their culture, they consider themselves a diverse team driven by shared values:
One Team: they are a team in victories and defeats. They share a common purpose.
All in: they are passionate and strong. They take risks to go further.
Zero bullshit: they are 100% transparent by default. They value giving and receiving honest feedback.
Never Enough: non-conformists by nature. They love to find better ways of doing things.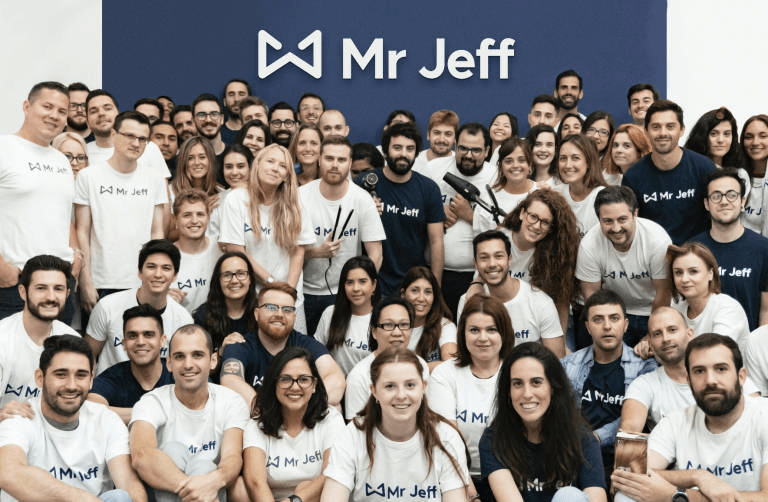 ---
WHAT WILL YOUR MISSION BE?
As VP of People, your primary mission will be to develop and execute HR strategies in support of the overall business plan and strategic direction of the organization, taking Jeff to the next level and building a people-centric culture.

You will develop HR strategies and tactics that effectively drive and support the achievement of overall business objectives.
You will counsel, train and coach team leads to create high-performing teams by acting as a coach and advisor.
You will integrate HR management and technology systems for optimal information utilization and effectiveness.
You will provide support and guidance on new business, mergers and acquisition activities.
---
WHAT DO THEY NEED YOU FROM YOY TO CONQUER THIS CHALLENGE?
Experience in similar challenges (team growth, international operation) in innovative companies.
A good level of English, higher than C1.
A minimum level of Spanish B2.
Very good communication skills.
You have a great strategic and cultural vision.

You will make them very happy if you also:
You have experience in companies where you work 100% remotely.
---
WHAT WILL THE SELECTION PROCESS BE LIKE? 
Interview 1: Video Call with the current VP of People.
Interview 2: Video Call Executive team.
---
WHO WILL ACCOMPANY YOU IN THIS CHALLENGE?
CEO - Eloi Gomez Cal 
CPO - Carlos Ruiz
CFO - Francesc Minoves
---
WHAT AWAITS YOU AT JEFF?
💶 A competitive salary band, according to each person's talent.
🏠 Full remote work model.
⛱ 23 vacation days.
🎈Bday Off.
⏳ Flexible working hours.
🌎 International environment.

---
HOW CAN YOU SHARE YOUR TALENT WITH US?
To apply for this life-changing opportunity, all you have to do is register your candidacy in the offer. Growara is a talent community of more than 40,000 people connected by a common passion: creating brutal careers. By registering you will allow us to offer you new challenges like this one.

Thank you for trusting Growara for your next big career move.

#keepgrowing🌱
Partner

Ubicaciones

Valencia

Estado remoto

Completamente remoto
Contacto
Sofia
Talent Advocate
Jeff
·
Valencia
·
Completamente remoto
VP of People
If you are curious, hands on, problem solving, passionate about doing your best and have fun in every step of your growth, look for your next challenge at Jeff!
Cargando formulario de solicitud